Polyga Vision V1
Polyga's Vision V1 is a high resolution, ultra accurate, high-speed 3D camera for industrial computer vision applications. The V1 is packaged in a rugged enclosure that is ready for integration into your 3D vision application.
Product Description
Type:

High resolution 3D Vision Camera
Dimension (mm):

58 x 270 x 160
Software:

Flexscan3D

or

SB SDK (C/C++)

for 3D capturing and post-processing
Technical Specifications
Captures every detail
Ultra high resolution 3D point clouds or meshes. The V1 delivers industry leading accuracy and and resolution using our high speed structured light technology. With a depth acuracy of 80 microns and point spacing of 0.6 mm the V1 lets you see and measure the world like never before.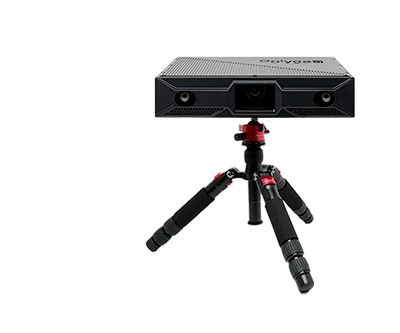 Ready for Automation
Designed for industry, the Vision V1 can be easily mounted onto robotic arms and assembly lines. It's ready for automated applications anytime with plug-and-play connectivity. The sensor's compact size allows it to be integrated anywhere.
Professional and Accurate Results
Turn scan data into high-quality point clouds. The Polyga V1 captures exceptional 3D image quality for your 3d models and surface inspection applications.